Loading...
Is Cloud Data Warehousing The Future Of All Data?
Importance of cloud data warehousing in business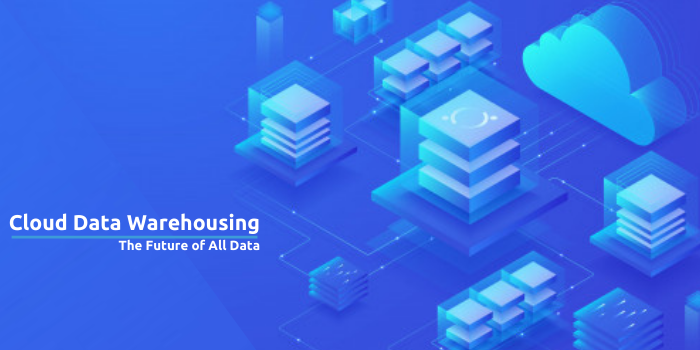 Cloud data warehousing is one of the most talked-about terms in the tech industry. There are many reasons for it, some of which you already know. But, the point is that it has created a stir among people without even having to do a lot. Everyone in the tech industry is talking about cloud data warehouses and the ways they are creating an impact on the data of a business.


Data as a Valuable Asset
Data is a valuable asset in today's world. In act, in many instances, it is indeed one of the most prized assets. Talk about your credit cards, debit cards, and money related data. Even though the wave of digital online payments has taken over, they seem to have received a reality check due to cyber-attacks. In other words, our data is constantly under threat. And in one or more ways, we are trying to protect it.


And this is just one instance of how powerful company data can be. Nonetheless, in every scenario, data forms the building block of an organization. It affects entities like never before, and in fact, the most in today's world.


Take the healthcare sector as an example. Here the data has the extraordinary capability to cause an effect not only on the non-living entity of the organization but also on the living people in it. Since a healthcare organization has data related to the health stats and treatment of people, it can be used in several adversarial ways. In other words, they can be used by malicious parties and organizations to cause harm to several people.


In one way, if the data lands in the wrong hands, the reputation of the organization can be ruined. The data that they might have thought of using it for some research study will now turn to waste. This will create an intellectual loss of property.


While on the other hand, there is a more real impact on it as well. This means that the data that is existing in the healthcare system has also real-time stats of patients. When in the wrong hands, some people can tamper with the treatment plans and healthcare data of patients. As a result, their treatments will be impacted. And in many cases, it can prove fatal for the patient.


Therefore, data is one of the most crucial elements in today's world. And as businesses move forward to establishing more and more presence on multiple platforms, they are generating more and more data. Suppose that a hospital has branches in five cities and it also has an online presence through a mobile app. This means that the hospital has a total of six sources from which the data will come and unify for analytics.


Similarly, if you take the case of businesses into account, most retailers have now moved to a more Omnichannel approach. This means that they have their presence in a physical store, a marketplace like Amazon, Flipkart, along with social media platforms like Facebook, Instagram, and others. More to this, they can have their private websites to build a brand value. The point is that, for this particular business in the Omnichannel scenario, the data will be flooding in from a variety of sources.


More Sources More Varieties
It wouldn't be incorrect to say that as the source of data increases, more and more varieties are being brought to the table of data. Suppose in one of the hospitals, the doctors use a different patient management system than other branches. Moreover, each doctor will place certain notes about the patient they are seeing. Each doctor will have a different style of writing these notes. This will be an individual trait.


Similarly, when it comes to eCommerce, each platform that the business has a presence over, like Facebook, Instagram, Amazon, Website, etc., will generate data. But this data will have their styles and formats. Since there is no standardization to the data across platforms, every channel has parameters based on their intent and research that they want to capture.


Imagine what would happen if a person had to conduct a study over all the patients in the hospital. Or they had to know about the aggregated marketing efforts for the brand because of a festive campaign. The situation looks horrifying. And so does the person's task and ability to make sense of such large and varied data.

Losing Traditional Practices
Having said this, it is impossible for a person to manually look at such data. And that is where the need for cloud data warehousing solutions comes in. Cloud data warehousing will be the roadway to the future due to a variety of reasons. First, it will ring together with the data on one platform. So, regardless of whether your businesses are on 100 different platforms, cloud data warehouses will store all of this data and using the right tools to transform them into a business-friendly entity.


Once the data is presented on a single platform, it will become fundamental for organizations. The point is that cloud data warehouses don't just offer storage service, but they offer technological advanced tools and services that are helping organizations.


These tools are services, many of which are free and can be used by organizations to make the most of their data, it can help them understand the insights and find the hidden patterns from a normal stream of data. Needless to say, it can help in business innovation, making better decisions, and more.


On the other hand, cloud data warehouses significantly reduce the costs of business infrastructure. They are flexible, meaning that a business has to only pay for what they use. Therefore, they help scale the data pipeline effortlessly without worrying about the investments.
Nex Softsys James Warner is working with Nexsoftsys as a software developer. He is working on different programming languages like Java, ASP.NET, Big Data, Python, Android and IOS. He has a highly experienced developer's team that gives you a one- stop business IT solution.
View James Warner`s profile for more