Loading...
7 Best Ways To Reduce Cart Abandonment Rates Of Your Online Store
Best ways to reduce eCommerce cart abandonment rates
For many online store owners, most of their customers put items in the shopping cart but they do not purchase it. According to a study from Baymerd institute, the average cart abandonment rate currently sits at 68.8%. Why such a high rate? There's no simple answer to a complicated question like that, but one of the main factors that make customers leave their online shopping cart is definite the long and complicated checkout process.
In eCommerce, cart abandonment may cost billions of dollars in lost sales. That's the money you can't afford to lose. But you, online store owners, can reduce it by optimizing your checkout page. In this article, I will show you how to do just that.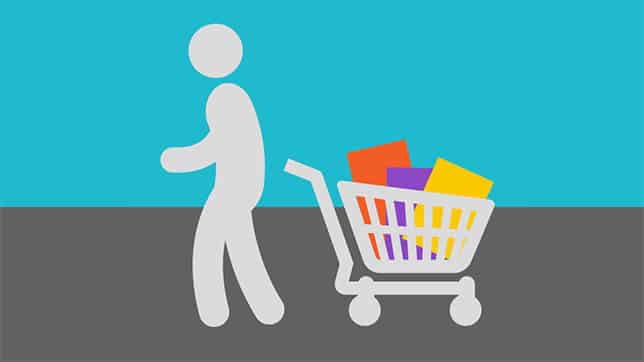 Source: Invespcro
Common reasons for cart abandonment
First, let's look at some common reasons why customers put an item in the shopping cart but do not buy it.
Having to create an account before moving to the paying process.

The long and complicated checkout process.

High shipping-fee and other unexpected fees.

The website is not trustworthy.
Or sometimes your customers just have a change of mind and genuinely don't want to buy those items anymore. Obviously, there's nothing you can do about that. However, given that the majority of reasons which make a customer abandon his cart is within your control, you have a lot of work to do. There's no way to cover all of the problems that you need to fix when it comes to cart abandonment, that would take a whole book. However, in this article, I can give you some of the best tips that you can apply to bring the fastest result possible.
7 Best ways to reduce cart abandonment rates
Cut Down Fees
Shipping-fee and other unexpected costs are the main reasons for cart abandonment. According to research, 60% of card abandonment comes from high shipping fees and other costs. As you can see, many people don't want to pay for a shipping fee or any other additional fee for that matter. That's why many store owners offer free shipping fees.
Source: Alclair
A small tip for your business: You can add shipping fees into the price of products then offer a free shipping fee when your customer buys it. Many online retailers have tried and confirmed it works very effectively. Or if you still decide to charge a shipping fee, be transparent about it. Do your best to reduce it to the best of your ability, then tell your customers exactly how much they have to pay in order to get their items shipped. Unexpected cost is a huge turn off to virtually everyone.


Include Multiple Payment Methods
Many people are in trouble when moving to the paying process. One of them is not finding a suitable payment method. Therefore, offering many payment methods helps you to keep visitors shopping at your shop. The more payment options that you offer, the more chance people buying at your store. Nowadays, you can do that with many eCommerce platforms. Just imagine you visit a store and you can only pay via Visa versus a store where you can pay via Visa, MasterCard, PayPal, etc. Assuming that these two stores are equal in every other area, I think it's safe to say that everyone would go to that second store. In business, losing your edge against competitors like that is exactly what you don't want to happen.


Reduce Form Field
If your checkout process includes many forms for buyers to fill, there's a good chance that the rate of cart abandonment will increase. The reason is quite simple, filling out these forms will take a lot of time and can be frustrating for some people. Therefore, only put form field in if you can't help it.


Here are some other helpful tips:
+ Only ask for information that is necessary. A good rule of thumb is that if you don't need that information for the transaction, don't ask for it.
+ Using billing address as shipping address default. If the buyer wants to use another shipping address, add a shipping address field as an optional field. This will cut off the address form filling time.


Checkout Button Optimizing
Your CTA (call to action) is an essential part of checkout page optimization. It may be "Buy now" or "Checkout". Whatever the word is, it's important to make the checkout button stand out, so your clients can check out anytime they want.
Small tip: Do not just put the checkout button at the top. It should be put at the top, bottom, and cart. It means your visitors won't have to look for them when they're ready to complete their purchase.


Use Friendly Checkout Interface
The checkout interface is an important factor you should pay attention to. A bad interface may make your customers feel unhappy or it may make them feel that your checkout process is not safe. Eventually, they decide not to buy your products. But if your checkout interface is good and friendly with users, the checkout process will be faster since your clients feel safe when making payments on your website.


Simplify Checkout Process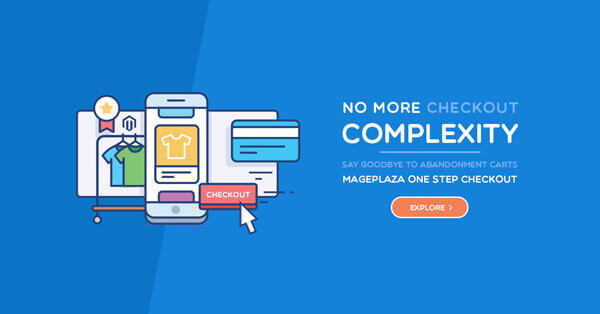 Source: Mageplaza
Another way to simplify the checkout process is by using a single-page checkout. All needed information and payment methods will be integrated into just one page. This will help a lot in reducing the cart abandonment rate for a couple of reasons:


+All Information On A Single Page: in only one page, all the information that you need has been gathered. A simple move but makes both you and your customers happy.


+Remove All Unnecessary Field: when you have only one page for the checkout process, you're forced to remove all the unnecessary fields such as showing order review twice when checkout, zip/postal code if your store only sells domestically, etc. Therefore, your buyers do not waste time filling unnecessary fields and checkout progress becomes faster and easier.


Try an app that helps reduce cart abandonment rates
Using abandoned cart recovery apps to reduce cart abandonment rates is an awesome tactic. They help you reduce abandonment rates quickly and efficiently. Even if you do not know well about abandonment cart rates and How to reduce it, apps will do it for you. There are so many useful apps that help you do it. All you have to do is find a suitable app for cart abandonment recovery and the app will do its work.


Final thoughts
Above are the best ways I know how to reduce cart abandonment rates for eCommerce businesses. Obviously, this list is in no way comprehensive, there are many other ways that you can go about it, but I firmly believe that these tips will help your business.
Avada Commerce
Hi, I'm Bruno, 24 years old. I write about eCommerce and marketing. I am passionate about eCommerce and creating insightful content to help entrepreneurs launch and grow their businesses. Now I work as a marketing executive at Avada Commerce -an eCommerce solution provider.
View Bruno Belton`s profile for more